Create a custom gift box for your loved ones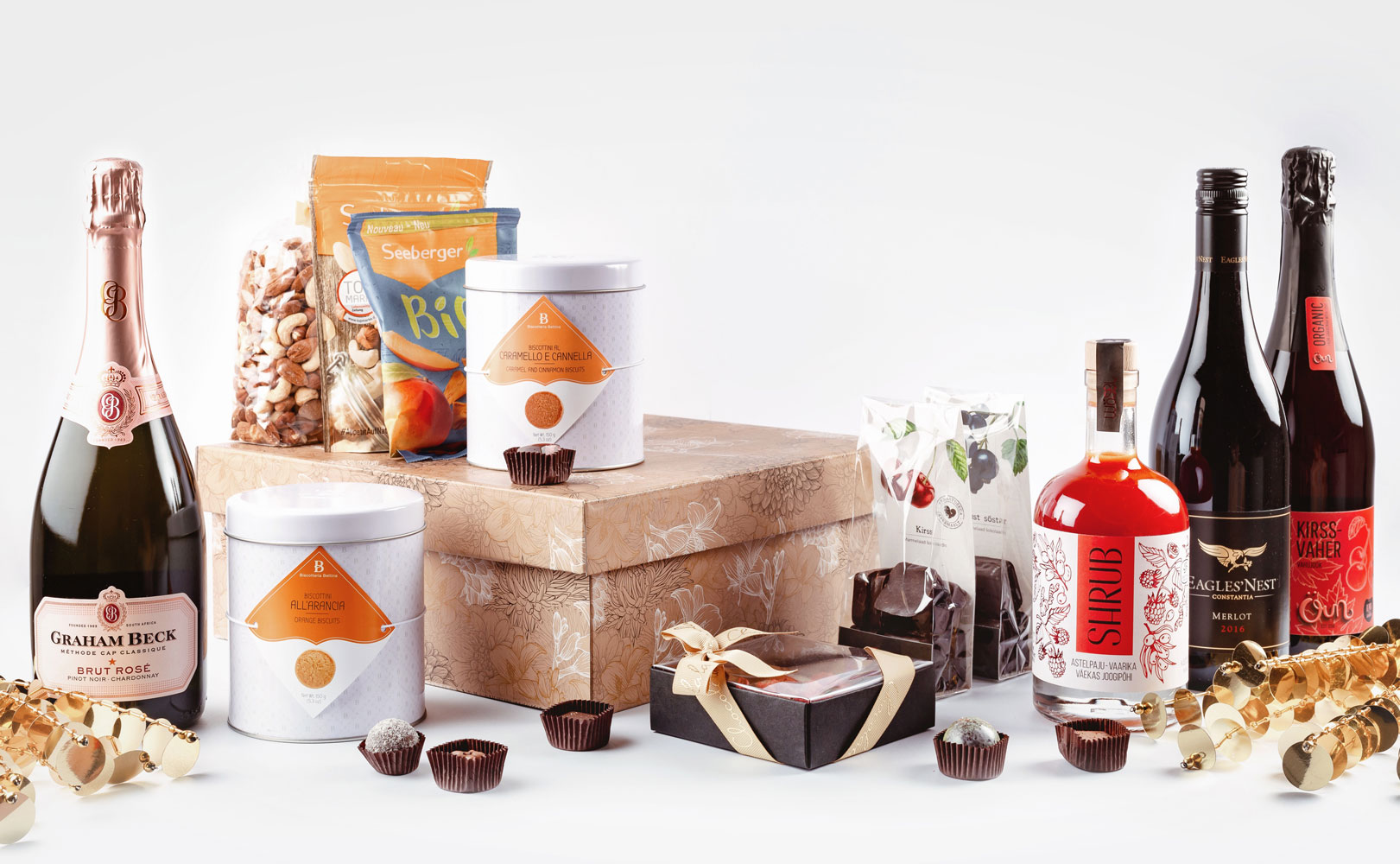 Looking for a memorable gift to surprise your favourite people on their birthday, Christmas, anniversary, or another special day, but can't really find anything that would make you think "oh, now that's a perfect match"? Want to make them happy with something extraordinary, and one of a kind that would be an experience in itself and make a lasting impression?
We are delighted to introduce a new gift box concept by Interflora - your own gift box with content you like. We've put together a wide variety of special and top-quality products that bring joy and offer your tastebuds a great experience. Choose what you put in the box according to the tastes and preferences of your friends, acquaintances, and co-workers, adding delicious local sweets, yummy snacks, some funky alcohol-free drinks, or bubbly champagne and specialty wine from lands across the sea. You can also pick a cute fluffy animal to surprise the little ones, and complete the gift box with a colourful bouquet. Order the gift and flowers together from Interflora, sit back and relax, while we deliver them straight to the lucky receiver!
Fill your own gift box with products selected from this list:
Chocolala handmade sweets

Estonian handmade chocolates that are inspired by local traditions and nature, and have won several international and local awards. Chocolala uses local ingredients as much as possible, for example, the butter, cream, berries, etc they use are always from Estonia. All of their products are fair trade and without any preservatives. You can choose between a box of 4 or 9 handmade truffles, a dark chocolate bar with raspberries, or a white chocolate bar with champagne.

Bettina gourmet biscuits

Bettina handmade cookies are made in Treviso, Italy, where local and generations-old recipes are used. They use the best quality organic ingredients and slow cooking methods to develop gourmet top-quality taste experiences their cookies offer.

MoMari marmalade

MoMari values using quality ingredients sustainably to use up the whole fruit, preferably with seeds and husks. In this way, the marmalade retains significantly more nutritious vitamins that come from the berries. In the production of handmade berry marmalades, Estonian berries are preferred and no artificial flavours or colours are used. The pleasantly sweet and sour blackcurrant marmalade and cherry marmalade are made in Saaremaa and are 100% vegan.

Organic nut mix

The healthy nut mix contains organic nuts that make a perfect snack in between meals. The mix contains walnuts, almonds, hazelnuts, and cashews.

Fluffy animals for kids

Choose between a crocheted cuddly cat, bunny, and giraffe. These toys are made with love and care from allergen-free materials that are machine washable. Besides crocheted animals, Interflora's selection also features cute fluffy ballerina bunnies, teddy bears, or koalas that are all made in a Swedish quality toy factory. Gift the toys for children from 3 years of age, or follow no rules and surprise a playful grownup with them.

Öun alcohol-free sparkling drinks

Öun sparkling drinks are made in Saaremaa, Estonia from organic apples and other local ingredients. They do not contain any preservatives or flavourings. Choose between apple-juniper or cherry-maple sparkling drinks. The familiar sweet and sour taste of local apples pairs well with juniper and offers an unusual taste experience, while cherries make a perfect addition for those who enjoy the sweeter berry flavour in their drinks.

Ostrova Mari raspberry-blackcurrant glögg

Ostrova Mari products are made from organically grown berries from Setomaa, Estonia. The juice used in this glögg is made from berries that have been cold-pressed and pasteurized to keep their best properties. Warming herbs and spices have been added to give it the perfect Christmas spirit. The product is alcohol-free, so that it can be enjoyed with the whole family.

Wösel SHRUB drinks

A SHRUB is an excellent base for making refreshing and energizing non-alcoholic or alcoholic cocktails. It is also well suited for making a warming tea or just using it as a vitamin-rich shot. You can select either a sea buckthorn-raspberry or ginger-honey-lemon SHRUB. No sugar is added to these drinks, only honey or agave syrup is used. The products are unheated to retain natural vitamins, minerals, and antioxidants that support the body at times when it needs extra protection against viruses

Steenberg sparkling wine

Steenberg is one of the oldest sparkling wine houses in South Africa founded in 1682 and is recognized for using classical methods for making their wines (Méthode Cap Classique, MCC). Chardonnay Brut is an elegant sparkling wine with a fresh taste of citrus, apple, and peach.

Graham Beck sparkling wines

Graham Beck wines are highly prized among royal houses and politicians. Oak barrels give Graham Beck Rose NV a deep taste. Graham Beck Brut NV is the winner of the Vinordic Wine Challenge and Best Value Sparkling Wine competition. It has a subtle yeast aroma and refreshing lime in its aftertaste, making it a complex sparkling wine.

Besserat de Bellefon champagne

Besserat is considered to be one of the top 75 champagne houses, which is highly popular in many Michelin restaurants in France, and it's also the official champagne of Louvre and d'Orsay museums. Besserat de Bellefon Brut has a fresh and creamy taste with a hint of apple and citrus. Besserat de Bellefon Blanc de Blancs is among the top 3 of Blanc de Blancs champagnes! And it's ideal for an aperitif, has a hint of citrus and peach in the taste and aroma.

Colombier Loire Valley Sauvignon Blanc

Domaine du Colombier is a small wine house from the famous Loire Valley. Their Sauvignon Blanc has a light taste with a hint of citrus. It feels refreshing when served next to salads and seafood.

Rochemorin Sauvignon Blanc

Rochemorin wine mansion is known throughout centuries. Rochemorin Blanc is a classic from Bordeaux, has a soft and pleasantly oaky taste. It's an aromatic and elegant wine that goes well with food.

Eagle's Nest Parker 90 Merlot

Eagle's Nest wines are one of the best out there, and are made from grapes grown on the hillsides of South Africa. Their Merlot is one of the top 3 Merlot wines in that region. It has an elegant style and a complex taste.

Château Bonnet AOC Bordeaux

Bordeaux is the most known wine area in the world where Château Bonnet quality wines are also made. AOC Bordeaux is a typical Bordeaux blend that consists of 50% of Cabernet Sauvignon and Merlot grapes, and has a round and fruity taste.

Oak Valley specialty wines

Oak Valley wine house is from South Africa, and its grapes grow in the heights of the Elgin plateau. This gives their wines an intense and elegant taste. Oak Valley Fountain of Youth Sauvignon Blanc has a fresh taste and hints of peach, lychee, and gooseberry. Stone and Steel Riesling has a balanced taste with a hint of apple, citrus, and peach. Sounds of Silence Pinot Noir has a sweet taste of cherry and a touch of oak.

Kleine Zalze Cellar Selection Pinotage

South Africa is a well-kept secret of the New World wine regions. Kleine Zalze is one of the best wine houses in South Africa. You can feel a hint of plum and a light taste of tobacco and tannins in Pinotage Cellar red wine.
Your own gift box has a wide variety of products to choose from, giving you a chance to find something special for absolutely everyone. Keep in mind that the gift box fits 1 bottle, and 3-4 additional products the best, or 2 drinks, and a box of sweets. Let's create wonderful memories and spoil your favourite people with amazing experiences! Put together a custom gift box for each person, pick a luxurious bouquet to complete the gift, and send it in the right place and at the right time with Interflora courier.